How to get your WinSMS API key
To get your WinSMS API key, follow the following instructions:
Login to the WinSMS Client Zone
here
and login with your WinSMS username and password. Once logged in, click on "My Profile"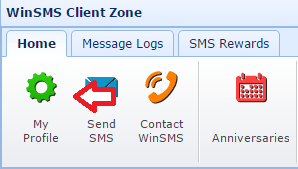 Click on the "Developers" tab

You can copy your API key from this tab and use it where you need to input your API key.
Don't have a WinSMS account yet? Register your free trial account
here
.
Related Articles

SMS REST API

A REST API (Representational State Transfer) is an application program interface (API) that mainly uses the HTTP protocol requests to GET, PUT, POST and DELETE data from a program to a responsive web service. An SMS REST API is the easiest way ...

WinSMS API documentation & samples

Developers have full access to the WinSMS API - tools which allow you to easily integrate 2-way SMS messaging into your existing database applications, custom software and web sites. If you are looking for information on how to use Email to SMS ...

WinSMS FTP API

Current Location: ftp://ftp.winsms.co.za (South Africa only). FTP and ASCII file: FTP API file formats Two file formats are supported: 1. Comma Delimited With Quotes (Required Fields in Bold): Line 1: "UserName","Password","200602241900" Line 2: ...