Please note that the e-mail to SMS gateway should not be used for sending large batches of messages (greater than 1000 at a time).
If you need to send messages in bulk then please use the WinSMS Desktop Client Software or our online bulk SMS portal at WinSMS.mobi.
In order to use the E-mail to SMS gateway you must have an account with WinSMS. If you do not have an account, please click
here
to register.
Authentication:
To be able to send SMS messages via e-mail (SMTP) you must first enable this feature in "My Profile" in the Client Zone.
By default, the account's admin e-mail address will be added as an authorized sender, but you can add additional e-mail addresses to be used for sending e-mail to SMS.
To do this, log into the Client Zone here and navigate to the "E-mail to SMS" tab on the "My Profile" page: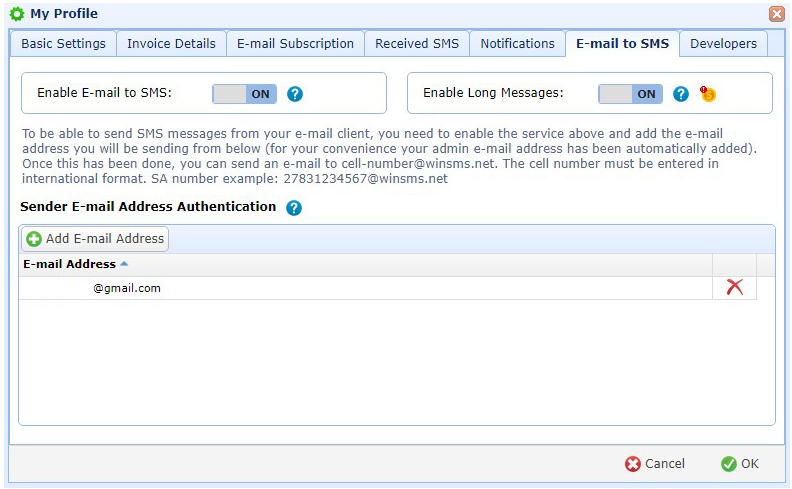 Scheduling:

If you want to schedule the message for later delivery, include the date/time in the subject line in the following format:
Subject: YYYYMMDDHHMM
YYYYMMDDHHMM represents the date and the time the message should be sent, for example:
Subject: 202211271500
In this example the message will be scheduled for 27 November 2022 at 15:00 (3pm).

The gateway will send the first 160 characters of the e-mail as the SMS message, but if you have enabled long messages under "My Profile" in the Client Zone, it will send the first 918 characters of the e-mail (taking into account the symbols that count as 2 characters. For more information on symbols that count as 2 characters, click
here
.).
To view or download your logs of sent messages just login to the Client Zone
here
and go to "Logs".
Don't have a WinSMS account yet? Register your free trial account
here
.